So today I vowed to fill the freezer and to post the recipes. This is definitely the first post of its kind on my blog, but I have had many tell me that they would like to see some of the recipes to the food I cook. In fact, I have a hair brained idea of creating a baby cookbook so maybe I will include those to see some feedback.
I set out today to use my crock pot to make a soup and that I wanted to make a pasta dish and a vegetable dish. All of which could be put into the freezer for a later date. I created a shopping list last night and went out this morning to collect the ingredients. I also purchased some new glass storage containers that are oven and freezer safe. I'm trying to make more and more changes to our house to lead a more environmental friendly lifestyle.
I hope you and your family can enjoy some of these items and feel free to let me know if you attempted them and if you made changes to improve them. I'm always open to new ideas.
Sweet Potato Mash with Brown Butter Sage
4 large sweet potatoes
1 orange; zested and juiced
1 tbs butter
4 sage leaves
Peel and cube the potatoes and boil for ten minutes or until soft. Drain and place back into pot. Add 1 tbs of orange zest and 2 tbs of orange juice. Mash until desired consistency. In a separate pan melt butter and sage over medium heat until butter begins to brown. Pour butter and sage over potatoes. Serve or separate into freezer safe containers.
Split Pea soup
16 oz. dried split peas
3 carrots; peeled and diced
2 ribs of celery; diced
1/2 cup diced onion
2 cloves of garlic; minced
Ham bone, 2 ham hocks or cubed ham
2 tbs dried parsley
1 bay leaf
1 tbs salt or to taste
1/2 tbs ground pepper
1 1/2 qt water
Combine all ingredients in crock pot; do not stir. Place on high for 4-5 hours or low 8-10 hours.
Pesto Prawn Penne Bake with Asparagus and Sun-dried Tomatoes
Whole wheat penne pasta
2 cups basil leaves
1 cup spinach leaves
1/4 cup toasted pine nuts
6 tbs olive oil
1 tbs lemon juice
1/4 cup grated Parmesan
sea salt and freshly ground pepper
4 sun-dried tomatoes; diced
2 tomatoes; chopped
1 bunch of asparagus cut into bite size
1 clove of garlic; minced
1 lb. of precooked prawns
1 cup shredded cheddar
1 cup shredded or cubed mozzarella
Pre-heat oven to 350F (unless freezing for later)
Cook pasta according to directions, drain and place into oven safe containers.
Make Pesto:
add basil, spinach, lemon juice, Parmesan, pine nuts, salt and pepper to a food processor and slowly add olive oil. Pour over pasta and mix evenly.
Meanwhile saute garlic in 1 tbs olive oil with asparagus and sun-dried tomatoes over medium-high heat for 5 minutes. Add tomatoes and prawns at last minute and remove from heat. Add to pasta. Spread Cheddar and mozzarella cheese over pasta. You can either freeze now or bake for 10 minutes or until cheese completely melted.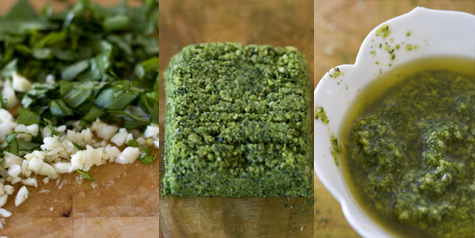 After cooking all morning I'm happy to say that it is all family approved (including baby)!